Texting & Cell Phone Violations
Lawyer for cell phone use & texting while driving
Rockland County, Westchester, Orange and beyond…
For you own safety we urge you not to use a cell phone or engage in texting and driving! Texting and driving or using a cell phone that is not hands-free in New York now carries a 5 point penalty and young probationary or junior drivers can lose their license for even a single violation!  According to the research done by textinganddrivingsafetycom, texting while driving increases your likelihood of having an accident 23 fold, and using a cell phone almost triples your chances of getting into an accident.. In 2013, New York started to crack down on using a cell phone and texting while driving. Dave McKinley of WGRZ reported  that almost 55,000 motorists were cited for texting while driving in New York State last year, an 82% increase over the previous year. The laws for using a cell phone while driving are among the toughest in the country and they are being enforced more vigorously than in the past. Steven Ginsberg wants you to know how dangerous this is.   Please use a hands-free device, or better yet, pull over.  However, he also knows that good people make mistakes.   If you have received a ticket for texting and driving you face 5 points, a fine and the possibility of having your insurance rates increase dramatically.
The texting law includes using any electronic device, without or without actual cell or Wi-Fi use.   Police will often ticket a driver if the driver is seen merely holding the device in his/her hand. Obtaining phone or text records will not help. Additionally, the courts have been viewing these violations far more strictly than in the past.  It is important to realize that you are likely to be found guilty in a trial even if you were actually innocent.  It is Attorney Steven Ginsberg's experience that prosecutors and judges rarely believe drivers who say that they were not actually using their phones or electronic devices.
If you have been cited for driving while using a cell phone that is not hands-free or for texting, you need to call The Law Office of Steven Ginsberg. In the past he has been able to significantly reduce the points. Mr. Ginsberg, in some cases, has been able to get the court to accept a plea carrying 0 points.* Nevertheless, he strongly urges his clients to use a blue tooth device to speak on the cell phone and to pull over and park prior to texting.
Attorney Ginsberg has developed a webinar to inform the public about what they should do if they are pulled over the police.
It covers:
Eight Tips on how to interact with an officer when you are pulled over to ensure you are safe and do not aggravate the situation and handle yourself in a manner that maximizes your opportunity to lessen the infraction.
Seven things you should do once you receive a summons to a minimum the ticket's impact 
How hiring an attorney can save you Time, Money, Points, DMV fines and assessments and avoid an insurance increase 
Seven ways that you can help your attorney help you
 four things you should do once the ticket is resolved
 Types of tickets you should handle by yourself
This brief but power packed webinar lasts  about 16 minutes including Questions and Answers…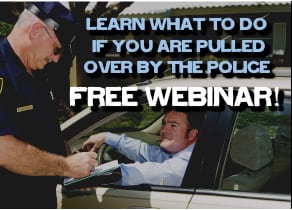 Click On Picture Above To Access Webinar Or link Below
https://al979.boostwebinars.com/21967
Cell Phone use & texting and driving a commercial vehicle in New York State

Here are some facts from the NYS Department of Motor Vehicles: . If you are driving a commercial vehicle for a living and holding a cell phone or portable device, even if you are temporarily stopped, you are presumed to be using the device and will be ticketed. If the device requires pushing more than one button to make a call, it will not be considered hands-free and you will be ticketed. Commercial drivers not only face the stiff fines and penalties that all drivers face but the law is very specific and tough. Commercial drivers, if convicted, may face serious consequences at their jobs too. If you are a commercial driver and have received a ticket for one of these violations call Steven Ginsberg – he can help. Attorney Ginsberg focuses his work in Rockland County as well as Orange and Westchester Counties, and throughout New York State.
To learn more, see About the NYS Driver Point System
To see the results attorney Steven L. Ginsberg has obtained in the traffic courts in Rockland County, Westchester, Orange and more… click here
[1] Each situation is different, and the achievable goals vary greatly. Speak to attorney Ginsberg about what objectives are being sought and what is likely to be the result.
* Please be advised that past results do not guarantee that the courts will accept similar pleas in the future. See full disclaimer, here.
---