Traffic Tickets
How to choose the best NY traffic lawyer for your situation?
Steven Ginsberg represents traffic ticket clients in Rockland County, Westchester, Orange and throughout NYS
Seven questions to ask before your choose a lawyer to defend your traffic ticket.
There are several factors that you need to consider to find the right traffic ticket lawyer for you and your specific situation. If you have received a traffic ticket in Rockland County, Orange, Sullivan, Putnam, Ulster, Dutchess or Westchester Counties, New York City or elsewhere in New York State, finding the best traffic ticket lawyer for your specific needs is a challenge. Here are seven considerations that will help you in the process:
Can you feel comfortable with the traffic ticket lawyer and feel you can develop a good client-attorney relationship with him/her?

Does the lawyer you are considering have extensive experience with NYS traffic matters?

Does the lawyer you are considering take the time to really listen to you and your entire situation so that he or she can develop the best strategy for you or do they go for quick "cookie cutter" solutions? Do you know that two violations may have the same number of points but may affect your insurance rates differently? And even the same violation may be treated differently in different towns or by different judges. Make sure your lawyer knows these details and will take your entire situation into account.

Is the attorney you are considering committed to vigorously pursuing your case from the initial information intake to representation to resolution?

Does the traffic attorney you are considering have years of positive relationships, goodwill and trust with the prosecutors, court personnel, and judges that may impact how your case is resolved? Will they willingly give him or her professional courtesy – even on the difficult matters?

Is the attorney you are considering committed to maintaining quality communications with you, updating you when necessary and willing to answer your questions so that you are fully aware of what is going on and all of your best options? Are they going to make themselves available to you?

If you are faced with losing your license, or facing a traffic-related crime such as DWI or Aggravated Unlicensed Operation or other misdemeanors, does the attorney you are considering have a track record of working out favorable results such as being able to keep their clients out of jail, maintain their licenses, reduce points and save thousands in fines, fees and future insurance increases?[1]
Attorney Ginsberg has developed a webinar to inform the public about what they should do if they are pulled over the police.
It covers:
Eight Tips on how to interact with an officer when you are pulled over to ensure you are safe and do not aggravate the situation and handle yourself in a manner that maximizes your opportunity to lessen the infraction.
Seven things you should do once you receive a summons to a minimum the ticket's impact 
How hiring an attorney can save you Time, Money, Points, DMV fines and assessments and avoid an insurance increase 
Seven ways that you can help your attorney help you
 four things you should do once the ticket is resolved
 Types of tickets you should handle by yourself
This brief but power packed webinar lasts  about 16 minutes including Questions and Answers…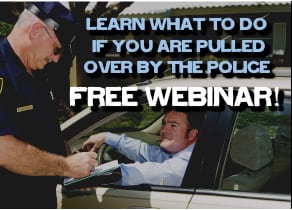 Click On Picture Above To Access Webinar Or link Below
https://al979.boostwebinars.com/21967
A Traffic Ticket Lawyer who works hard to obtain the most favorable disposition for your situation
Steven Ginsberg is a traffic lawyer that prides himself on interacting with his clients in a friendly, helpful manner, while vigorously representing them and using everything at his disposal, including years of built-up goodwill and extensive experience to negotiate the best possible outcome to their traffic tickets. If you are also looking to save time, aggravation and hassles on speeding tickets, moving violations, texting & cell phone and other violations, you should speak with Attorney Steven Ginsberg. If you are in danger of having your license suspended or have been charged with driving while your license is suspended, speaking with Steven is really a must. If you drive for a living and are a truck, bus, taxi, limousine driver or must travel regularly to different places for work and need a quality traffic ticket lawyer, you should take advantage of the free, no-obligation consultation that is offered by calling 845-547-2500 or completing the form on the right.
To see the results attorney Steven L. Ginsberg has obtained in the traffic courts in Rockland County, Westchester, Orange and more… click here
[1] Each situation is different, and the achievable goals vary greatly. Speak to attorney Steven Ginsberg about what objectives are being sought and what is likely to be the result.
---