Home
Steven L Ginsberg Traffic Lawyer located In Rockland County, New York
Are you angry with yourself? Are you scared you are going to lose your license or, even worse, go to jail? Do you drive for a living and are afraid your ticket may cause you to lose your job?   Do you feel that your driving record will be ruined, your insurance rates will skyrocket, and life insurance premiums may be affected as well? Are you anxious and stressed that your perfect driving record is now threatened with points for the first time due to that ticket you can't believe you received?  Or maybe you just don't have the time to go to court?  Relax; many of Attorney Steven L Ginsberg's clients had the exact same feeling until they picked up the phone and called for help.
Why do I need a traffic lawyer like Steven Ginsberg?
If you have a moving violation and are considering hiring a traffic lawyer in Rockland County, or Westchester or Orange Counties, or anywhere in New York State, you've come to the right place.
You may ask why you would need a traffic ticket lawyer…. Can't you just do it yourself? This is a very common thought and you may be able to negotiate a deal by yourself. However, are you giving yourself the best odds? Are you getting the best results in your specific situation? Before you choose to "do-it-yourself," you should ask yourself a few questions:
Do you have a full understanding of New York State traffic laws and how they can affect you?

Have you built up years of goodwill, trust and positive relationships with the prosecutors, police officers, court clerks and judges?

Do you stand to benefit from hiring someone with more than 20 years of legal experience who will plan a legal strategy that is carefully designed to handle your traffic tickets and (where appropriate) negotiate an agreement for a best outcome for your full particular circumstances (fines, points, effects on insurance rates, the ability to keep your license and more)?

What is your time worth? If court is cancelled or your case is not heard, you might spend many more hours than you planned and still not resolve your case, let along obtain the best deal available. Schedules vary greatly – many traffic courts have sessions in the middle of a workday.   Hiring a traffic lawyer will potentially save you time in that you will not have to take time off from work.[1]

What is it worth to turn over all of the aggravation, worry and stress to an experienced attorney and be able to relax knowing that you are in good hands and that the matter will be negotiated as favorably as possible?
These are the major reasons why investing in a highly effective traffic lawyer like Steven L. Ginsberg is the best investment of your time and money. If you have a speeding ticket, moving violation, a texting or cell phone violation, an issue involving a suspended license, a DWI or a commercial drivers license, you should contact Attorney Steven L Ginsberg for a free, no obligation telephone interview now. He is familiar with the courts in Rockland County as well as Westchester and Orange Counties. He also represents clients in Sullivan, Putnam, Dutchess, Ulster, Nassau, Suffolk, the five boroughs of New York City, and throughout New York State.
Attorney Ginsberg has developed a webinar to inform the public about what they should do if they are pulled over the police.
It covers:
Eight Tips on how to interact with an officer when you are pulled over to ensure you are safe and do not aggravate the situation and handle yourself in a manner that maximizes your opportunity to lessen the infraction.
Seven things you should do once you receive a summons to a minimum the ticket's impact
How hiring an attorney can save you Time, Money, Points, DMV fines and assessments and avoid an insurance increase
Seven ways that you can help your attorney help you
 four things you should do once the ticket is resolved
 Types of tickets you should handle by yourself
This brief but power packed webinar lasts  about 16 minutes including Questions and Answers…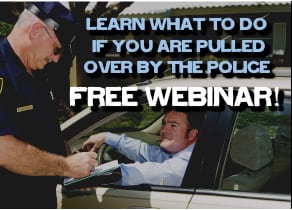 Click On Picture Above To Access Webinar Or link Below
https://al979.boostwebinars.com/21967
How to choose the best traffic lawyer in NY for my situation? 
There are several factors that you need to consider to find the right traffic lawyer for you and your specific situation. Read more…
To see the types of results Steven L Ginsberg, Esq. has obtained in the traffic courts in Rockland County, Westchester, Orange and more… click here
[1] There are circumstances that may require the client's personal presence in Court.
---