DWI
New York DWI Lawyer focused in Rockland County, Westchester, Orange and beyond…
Driving drunk is one of the most hazardous things you can do. Please do not drink and drive! According to the NYSDMV's You and the Drinking Laws :
One-third of the fatalities in New York State involve impaired or intoxicated drivers and pedestrians.
With increased Blood Alcohol Content (BAC), crash risk increases sharply. A driver with a BAC of 0.08 is four times more likely to cause a crash as a driver who has not been drinking, while a driver with a BAC of 0.16 is 25 times more likely to do so.
Young drinking drivers are at the highest risk of all. Drivers 20 years old or younger are almost three times more likely to be involved in alcohol related fatal crashes than other drivers.
Attorney Ginsberg has developed a webinar to inform the public about what they should do if they are pulled over the police.
It covers:
Eight Tips on how to interact with an officer when you are pulled over to ensure you are safe and do not aggravate the situation and handle yourself in a manner that maximizes your opportunity to lessen the infraction.
Seven things you should do once you receive a summons to a minimum the ticket's impact 
How hiring an attorney can save you Time, Money, Points, DMV fines and assessments and avoid an insurance increase 
Seven ways that you can help your attorney help you
 four things you should do once the ticket is resolved
 Types of tickets you should handle by yourself
This brief but power packed webinar lasts  about 16 minutes including Questions and Answers…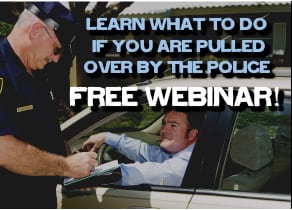 Click On Picture Above To Access Webinar Or link Below
https://al979.boostwebinars.com/21967
How can drunk driving affect me in New York State?
Driving while intoxicated (DWI) endangers your life and others. Additionally New York Law states that you can:
be charged with a crime that can stay on your record permanently
go to jail for (in some cases) up to 7 years
lose your license
be fined up to $10,000
receive an annual surcharge on your license
have your insurance rates skyrocket
If I am under 21 are the penalties for drunk driving in New York more severe?
The answer is yes. Not only do the courts want to dissuade people under 21 from driving drunk but the offense carries more severe penalties (see page 3 of the NYSDMV's You and the Drinking Laws). Additionally, NYS has instituted zero tolerance laws for people under the age of 21, making it illegal to consume alcohol and drive (see pages 4-5 for details)
What happens if I get a DWI in NY and have a Commercial License?
If you hold a commercial drivers' license, no matter if it is class A, B or C, you will be held to stricter Blood Alcohol Content standards and will receive more severe penalties if you are convicted of an alcohol offense (see page 4 of the NYSDMV's You and the Drinking Laws). There are also more severe penalties for second or third offenses including permanent loss of your commercial driving License, CDL. Being convicted of a DWI may also give your employer lawful grounds for your termination not to mention the fines, surcharges and increases in insurance. If you have a CDL and are ticketed or arrested on a DWI, your next move should be to call Steven Ginsberg for a free consultation. Let him put his experience and know-how to work to find the best way to navigate through this difficult legal predicament.
What kinds of alcohol charges are there?
If you are suspected of using alcohol and driving, you may be charged with DWI if you are accused of having a BAC of .08% or more. DWI is a misdemeanor that carries stiff fines, suspensions or even jail. If you are found to have .18% or more, you can be charged with Aggravated DWI, which includes enhanced penalties, and, in some circumstances, can result in mandatory sentences of prison. With a BAC of less than .08%, it is still possible to be charged with DWAI – Driving While Ability Impaired, which is not a misdemeanor but still goes on your record as an alcohol offense, and is likely to result in a license suspension. Finally, if one is suspected of driving while under the influence of drugs, you can be charged with crimes with very similar penalties and consequences.
Recently, Mr. Ginsberg was able to successfully negotiate a DWAI offense in Orange County to a non-alcohol violation in one instance.   Of course past results do not guarantee future results (see full disclaimer here), but he is ready to put all of his experience to work for you.
Steven Ginsberg is a New York DWI Lawyer that knows that good people make mistakes
If you have been caught driving drunk you are going to need an experienced New York lawyer. Whether you think of it as DUI or DWI (called "DWI" in New York), the courts take drunk driving very seriously and you are going to need a good lawyer. Steven Ginsberg has over 20 years of legal experience and has good will built up with the court system. If you were ticketed or arrested in Rockland County, Westchester or Orange counties or throughout New York, one of the smartest things you can do is call Ginsberg's office and schedule a consultation. Mr. Ginsberg will vigorously review all aspects of your case and then develop the best defense strategy, taking all aspects of your life's situation into account to develop a strategy focusing on an outcome that minimizes the effect on your life. In the past, Mr. Ginsberg has been able to negotiate settlements that kept his clients out of jail, renegotiated misdemeanor (crimes with records) charges down to violations (not a criminal offense ), and has been able to obtain a conditional driver's license for his client so their jobs were not jeopardized, and he has been able to keep fines low. *
If you would like to arrange a free, no-obligation telephone consultation to discuss how Attorney Ginsberg can help you, please call 845-547-2500 or complete the form on the right hand side of the page.
To see the results attorney Steven L. Ginsberg has obtained in the traffic courts in Rockland County, Westchester, Orange and more… click here
[1] Each situation is different, and the achievable goals vary greatly. Speak to attorney Ginsberg about what objectives are being sought and what is likely to be the result.
* Please be advised that past results do not guarantee that the courts will accept similar pleas in the future. No two situations are exactly alike. See full disclaimer, here.
---