Moving Vioations
Traffic attorney for moving violations –
Rockland County, Orange County, Westchester County & elsewhere in New York State
Moving violations range from traffic tickets with 0- 2 points to high speeds carrying up to 11 points and then to crimes such as reckless driving or leaving the scene of an accident where someone has been seriously injured, resulting in penalties including serving jail time, loss of license and even receiving a criminal record. If you have been ticketed for a misdemeanor, you should strongly consider hiring an attorney, who can guide you through an even more unfamiliar process and help protect your rights. Also, If you have over 6 points on your license (accrued during an 18 month period) you will automatically receive a $100 (or more) per year assessment for 3 years from the New York Department of Motor Vehicles (DMV). Additionally, moving violations can cause your auto insurance to significantly increase and there can be other surprises, such as a life insurance policy becoming more costly to purchase.  If you have a commercial license and drive a truck, bus, taxi or limousine, a moving violation conviction may place your livelihood at risk.
Attorney Ginsberg has developed a webinar to inform the public about what they should do if they are pulled over the police
It covers:
Eight Tips on how to interact with an officer when you are pulled over to ensure you are safe and do not aggravate the situation and handle yourself in a manner that maximizes your opportunity to lessen the infraction.
Seven things you should do once you receive a summons to a minimum the ticket's impact 
How hiring an attorney can save you Time, Money, Points, DMV fines and assessments and avoid an insurance increase 
Seven ways that you can help your attorney help you
 four things you should do once the ticket is resolved
 Types of tickets you should handle by yourself
This brief but power packed webinar lasts  about 16 minutes including Questions and Answers…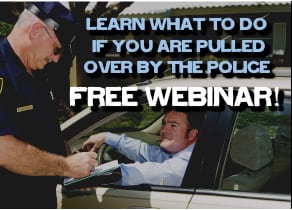 Click On Picture Above To Access Webinar Or link Below
https://al979.boostwebinars.com/21967
Steven Ginsberg is a traffic attorney who can successfully guide you to an outcome that has the least impact on your life's situation. He focuses his practice in Rockland County, Orange County and Westchester County and can also represent a driver who has received a traffic violation anywhere in New York State. Mr. Ginsberg has more than 20 years' experience practicing law in New York and concentrates on Vehicle and Traffic law. If retained, he will vigorously draw on his knowledge and experience and will use his years of built up goodwill with the prosecutors, police officers, clerks and judges on your behalf to obtain a favorable result. His practice is based in Suffern, NY and he can help all drivers who received traffic tickets in New York State.
Below is a partial list of violations and the points that are placed on your license (as of June 2014). The violations in burgundy include a criminal charge. All of these charges also carry fines in varying amounts in addition to these other penalties:
Speeding (1-10 MPH over posted limit): 3 points
Speeding (11-20 MPH over posted limit): 4 points
Speeding (21-30 MPH over posted limit): 6 points
Speeding (31-40 MPH over posted limit): 8 points
Speeding (more than 40 MPH over posted limit): 11 points
Reckless driving: 5 points (criminal)
Failing to stop for a school bus: 5 points
Following too closely (tailgating): 4 points
Failing to yield right-of-way: 3 points
Violation involving a traffic signal, stop sign, or yield sign: 3 points
Improper passing, unsafe lane change, driving left of center, or driving in wrong direction: 3 points
Leaving the scene of an incident involving property damage or injury to a domestic animal: 3 points
Leaving the scene of an accident involving personal injury : 3 points (criminal)
Involvement in a speed contest (racing): maximum of 30 days in jail, 1 year loss of license (criminal)
Driving with a suspended or revoked license: Maximum 30 days in jail. (criminal)
Seat belt or booster violation involving a person under 16: 3 points
Texting (or using electronic device for other purposes) while driving: 5 points
Any other moving violation: 2 points
In the past, Attorney Ginsberg has been able to negotiate many moving violations down to violations carrying no points. In some very serious cases, he has helped his clients to avoid jail time, loss of license, and criminal records.* In the case of commercial drivers this can be the difference between pursuing a livelihood or being fired.
To see the results attorney Steven L. Ginsberg has obtained in the traffic courts in Rockland County, Westchester, Orange and more… click here
* Please be advised that past results do not guarantee that the courts will accept similar pleas in the future. See full disclaimer, here.
---