Commercial Drivers License
Traffic lawyer  for commercial drivers (CDL) In New York

Lawyer for Commercial Drivers License (CDL)
Truckers, Bus Drivers, Taxi Drivers & Limousine Drivers
Do you have a commercial Drivers License (CDL)? The best advice is to avoid getting ticketed. This applies to all driving situations, regardless of when, where, or how. As a truck or other kind of commercial driver, you could jeopardize losing your CDL or your livelihood even while getting ticketed behind the wheel of your family car. If you have a need for a traffic lawyer and you have a commercial drivers license (CDL) in NY, you are at the right website.
You especially want to avoid one of the following major violations (which applies to all drivers):
Driving under the influence of alcohol (even with less than the legal limit)
Operating under the influence of a controlled substance
Fleeing the scene of an accident
Causing a fatality due to negligent driving
Refusing an alcohol test
Using the vehicle to commit a felony
Using the vehicle in manufacturing, distributing or dispensing a controlled substance
Driving while your CDL is suspended, revoked, or cancelled
Attorney Ginsberg has developed a webinar to inform the public about what they should do if they are pulled over the police.
It covers:
Eight Tips on how to interact with an officer when you are pulled over to ensure you are safe and do not aggravate the situation and handle yourself in a manner that maximizes your opportunity to lessen the infraction.
Seven things you should do once you receive a summons to a minimum the ticket's impact 
How hiring an attorney can save you Time, Money, Points, DMV fines and assessments and avoid an insurance increase 
Seven ways that you can help your attorney help you
 four things you should do once the ticket is resolved
 Types of tickets you should handle by yourself
This brief but power packed webinar lasts  about 16 minutes including Questions and Answers…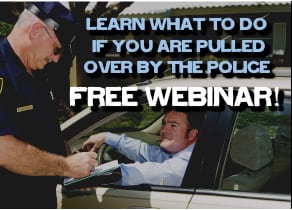 Click On Picture Above To Access Webinar Or link Below
https://al979.boostwebinars.com/21967
Commercial drivers should avoid getting ticketed for one of the following serious traffic offenses:
Following too closely.
Speeding
Improper lane changes.
Operating a commercial vehicle without your CDL in your possession.
Careless driving.
Driving a rig without the proper endorsement.
If convicted of any of above described violations, you could face the following commercial driver penalties:
The suspension or revocation of your commercial drivers license, the length of which is contingent on your state, the nature of the violation, and your driving record. Once cleared to resume driving, you'll then face expensive license reinstatement fees.
Points assessed to your drivers license, if applicable to your state. Top a specified amount of points as designated by your state and you could lose all driving privileges.
The temporary or permanent loss of your job.
Higher insurance rates.
Very stiff fines.
In some serious cases, jail time is possible, depending, of course, on the nature of the violation.
If convicted of any of the above violations, you are required, by law, to notify your employer. Depending on the circumstances surrounding your ticket and what's at stake, you may want to consider hiring a traffic attorney who specializes in CDL affairs.
Keep in mind that HAZMAT drivers are under tighter scrutiny; penalties are magnified even more.
With so much at stake, it is important that you have an experienced attorney to assist you and help you try to avoid the worst consequences. If this applies to you, call Steven Ginsberg today.
This in no way guarantees results. See full disclaimer here.
To see the results attorney Steven L. Ginsberg has obtained in the traffic courts in Rockland County, Westchester, Orange and more… click here
[1] Each situation is different, and the achievable goals vary greatly. Speak to attorney Ginsberg about what objectives are being sought and what is likely to be the result.
---