Suspended License
Suspended License Lawyer




Practice focused in Rockland County & Westchester & Orange Counties, New York
Are you about to have your license suspended?
Do you have a ticket that will result in you losing your license? You may have either received an number of tickets with a large amount of points or have received a citation for excessive speeding and be thinking "Is my license suspended"… and then you are most likely very angry with yourself. Attorney Steven L. Ginsberg believes that good people make mistakes… If you find yourself in the position where your license is going to be suspended, your next move should to be to call him at 845-547-2500.
Below are some of the most common reasons why you may be asking "is my license suspended." If you have done any of the following, you license will be suspended:
3rd speeding ticket in 18 months
You are going to go over 11 points
Did you get a ticket over 41 miles over the speed limit?
Failure to pay a fine or respond to a traffic summons.
Answer yes to any of these & the smart move will be to call a lawyer to prevent having your license suspended, or if you are already suspended, to get your license fully reinstated.
Attorney Ginsberg has developed a webinar to inform the public about what they should do if they are pulled over the police.
It covers:
Eight Tips on how to interact with an officer when you are pulled over to ensure you are safe and do not aggravate the situation and handle yourself in a manner that maximizes your opportunity to lessen the infraction.
Seven things you should do once you receive a summons to a minimum the ticket's impact 
How hiring an attorney can save you Time, Money, Points, DMV fines and assessments and avoid an insurance increase 
Seven ways that you can help your attorney help you
 four things you should do once the ticket is resolved
 Types of tickets you should handle by yourself
This brief but power packed webinar lasts  about 16 minutes including Questions and Answers…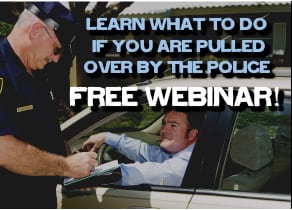 Click On Picture Above To Access Webinar Or link Below
https://al979.boostwebinars.com/21967
Steven Ginsberg can help you in Rockland County, Westchester, Orange and throughout New York State
If you are in this situation, the smartest thing you can do is hire an attorney who has extensive experience in all areas of traffic ticket law including: speeding tickets, moving violations, DWI, texting and cell phone tickets. If you have a commercial license and drive a truck, bus or taxi, this become even more serious as a suspended license will result in loss of work. This is serious and if your ticket(s) are not handled properly, you will lose your license and, in some courts and with some judges, you may go to jail. This is reality and it is not pretty. However, if your infraction occurred in Rockland County, Westchester County or Orange County or anywhere else in New York State, calling Attorney Steven L. Ginsberg may just be the smartest move you can make. Ginsberg will bring his 20+ years of legal experience, his focus on traffic law and his years of built up good will with the court system – judges, DAs, prosecutors, police and court clerks – to do everything in his power to help you keep your license and minimize the impact of recent infractions on your life.
In the past, Attorney Ginsberg has represented clients with a past moving violation and were caught speeding at a very high rate of speed. The court that handled that area is known to be very tough and the judge was known to suspend a person's license and even put them in jail. He had the client complete a Defensive Driver Course and worked extremely hard to negotiate a settlement that maintained his client's license. In the end, his client (who already had 3 points) kept their license and ended up with only 4 total points. The client avoided being assessed a $175 fee per year for 3 years as well as not receiving the large increases in insurance that they would have received if the original tickets held. *
If you would like to arrange a free, no-obligation telephone consultation to discuss the possibilities of avoiding your license being suspended, please call 845-547-2500 or complete the form on the right hand side of the page.
To see the results attorney Steven L. Ginsberg has obtained in the traffic courts in Rockland County, Westchester, Orange and more… click here
[1] Each situation is different, and the achievable goals vary greatly. Speak to attorney Ginsberg about what objectives are being sought and what is likely to be the result.
* Please be advised that past results do not guarantee that the courts will accept similar pleas in the future.
---