Speeding tickets
Speeding Tickets Lawyer –
Rockland County, Orange County, Westchester County & all of New York State
Did you know that approximately 1 out of 4 drivers has had a speeding ticket over the past 5 years?* This may not be overly comforting if you just received one, especially if you have had other moving violations over the past 18 months. If you were cited for exceeding the speed limit by over 40 miles per hour, you are in jeopardy of having your license suspended and should call Steven L. Ginsberg, a lawyer who has handled hundreds of speeding tickets, immediately.   Besides points on your license, your speeding ticket, if left to stand, may cause you to incur an annual fee of $100 or more from the DMV (in addition to a hefty fine), may cause your auto insurance to skyrocket and can even negatively affect the rate you will pay for life insurance.   If you have a commercial license (CDL) and drive a truck, bus, taxi or limousine, speeding ticket(s) can adversely affect your job and livelihood. Attorney Ginsberg has 20+ years of practicing law and focuses his practice on traffic law. He will employ his extensive experience as well as his years of built up goodwill with the members of the traffic court system to negotiate your ticket(s) in a manner that is most favorable to your unique situation.
Attorney Ginsberg has developed a webinar to inform the public about what they should do if they are pulled over the police.
It covers:
Eight Tips on how to interact with an officer when you are pulled over to ensure you are safe and do not aggravate the situation and handle yourself in a manner that maximizes your opportunity to lessen the infraction.
Seven things you should do once you receive a summons to a minimum the ticket's impact 
How hiring an attorney can save you Time, Money, Points, DMV fines and assessments and avoid an insurance increase 
Seven ways that you can help your attorney help you
 four things you should do once the ticket is resolved
 Types of tickets you should handle by yourself
This brief but power packed webinar lasts  about 16 minutes including Questions and Answers…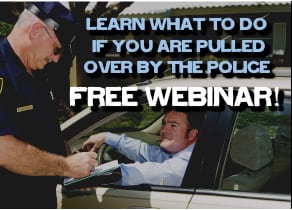 Click On Picture Above To Access Webinar Or link Below
https://al979.boostwebinars.com/21967
Below are a list of NY DMV speeding infractions and the points they carry.
Speeding (1-10 MPH over posted limit): 3 points
Speeding (nonspecific speed): 3 points
Speeding (11-20 MPH over posted limit): 4 points
Speeding (21-30 MPH over posted limit): 6 points
Speeding (31-40 MPH over posted limit): 8 points
Speeding (more than 40 MPH over posted limit): 11 points
Involvement in a speed contest (racing): 1ST offense – maximum of 30 days in jail, 1 year loss of license plus a maximum of $618 fine
When do you need a speeding ticket lawyer?
If you have received a speeding ticket in Rockland County, Orange County, and Westchester County or anywhere in New York State, and you want help to minimize its effect on your license, insurance and life insurance, call Steven L. Ginsberg  at 845-547-2500 to schedule a free, no-obligation telephone consultation.
To see the results attorney Steven L. Ginsberg has obtained in the traffic courts in Rockland County, Westchester, Orange and more… click here
[1] Each situation is different, and the achievable goals vary greatly. Speak to attorney Ginsberg about what objectives are being sought and what is likely to be the result.
*2013 survey performed by Insurancequotes.com
---